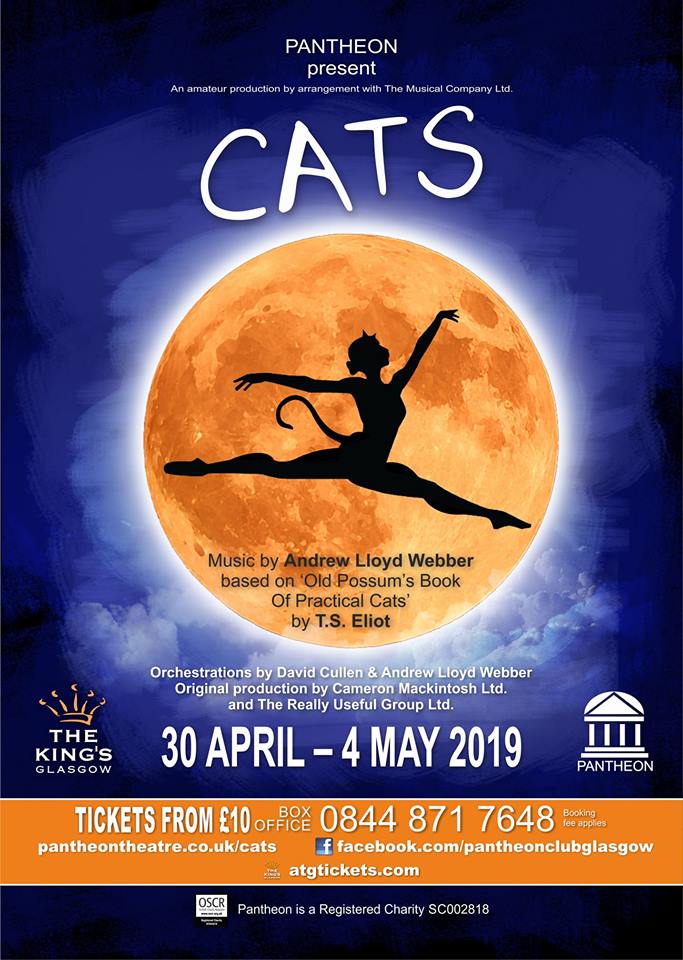 1st-4th May 2019
CATS tickets are ON SALE NOW!!!
Online – https://www.atgtickets.com/shows/cats/kings-theatre/
Telephone – Box Office 08448717648
Pantheon are bringing Andrew Lloyd-Webber's hugely popular Cats to The King's Theatre Glasgow in a production directed and choreographed by Chris Stuart Wilson.
Based on Old Possum's Book of Practical Cats by T.S. Eliot, the musical tells the stories of the Jellicle Cats who come out to play on one special night of the year – the night of the Jellicle Ball. One by one we meet a cast of fabulous felines including Rum Tum Tugger, Macavity, Grizabella, Mr Mistoffelees, Old Deuteronemy and Skimbleshanks. One by one they tell their stories for the amusement of Old Deuteronomy, their wise and benevolent leader, who must choose one of the Cats to ascend to The Heaviside Layer and be reborn into a whole new Jellicle life.
It's one of the longest-running shows in West End and Broadway history – the original production played at the New London Theatre for 21 years – and it is currently being adapted for a Hollywood movie starring Idris Elba, James Corden, Taylor Swift, Judi Dench and Sir Ian McKellen.